PROS
Under 200$
Multi-day battery life
Tracks fitness & health
Sleep tracking
Third-party apps from Spotify to Strava
Intuitive interface
On-device music storage
Receives text messages from various apps, emails, calendar, and phone-call notifications
Can answer text messages and phone calls.
Works with Alexa
CONS
Most statistics are unlocked through a paid subscription
Few third-party apps and ost like Deezer require a paid subscription
To choose a playlist on Spotify you still need the phone and a premium subscription.
No built-in GPS for tracking your route
Smartphone app UX should be improved
Responding messages can be done by Voice and only on Android.
Calls can only be answered if you have the mobile next to you or you're wearing a headset with a microphone.
Integration with Alexa lacks features
Design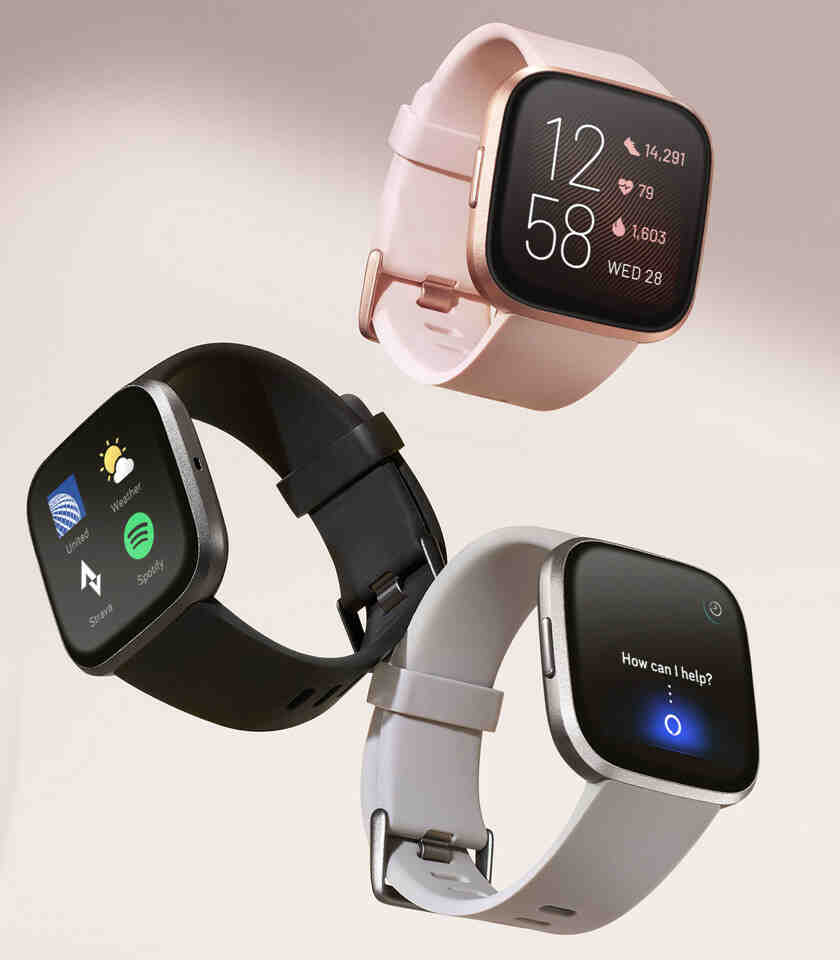 Aesthetics play a fundamental role in deciding on buying a smartwatch. The design of the watch is even more important even than the functionality itself. Why? The reason is very simple – a smartwatch is meant to be worn day and night, actually more than the mobile itself. Hence, if you're not planning it of keeping the watch on, you might better think it twice before spending any money. Case in point, most functionality depends on wearing the device.
Versa 2's AMOLED screen is quite big measuring around 35mm with the glass rounded on the front. The case is made of aluminum had the smooth edges make it feel nice. Actually, if you look at it from different angles it looks highly premium. It has also one button on the left side to access the main options.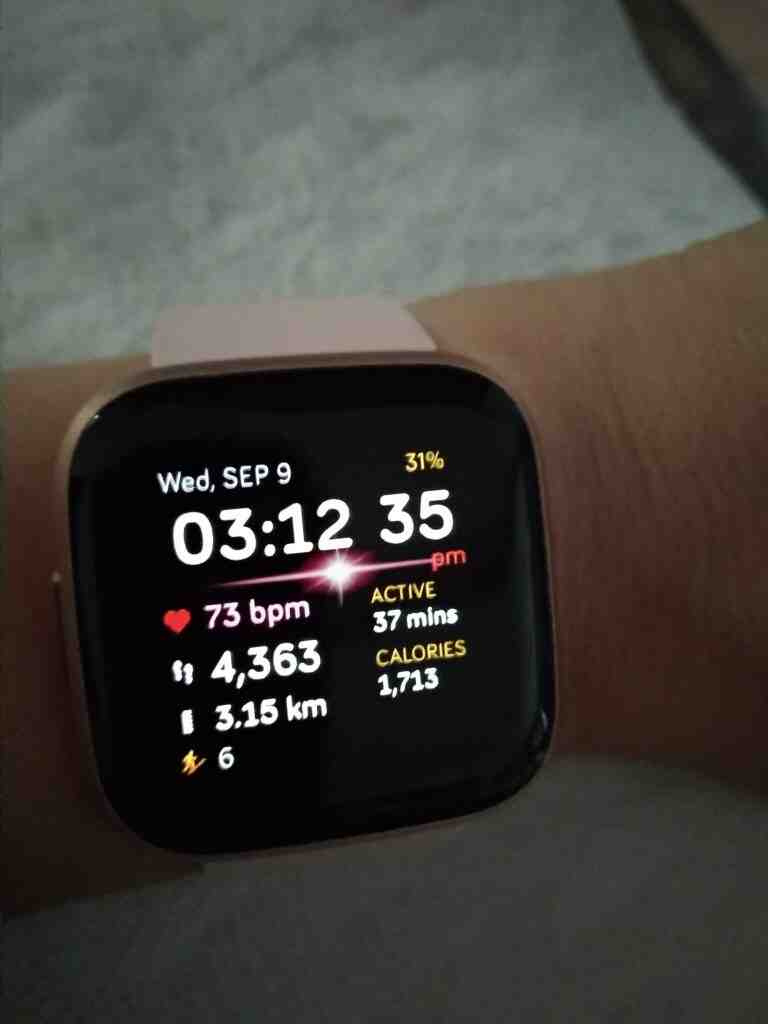 Different clock faces can be downloaded from the Fitbit site according to your style and needs. Personally, I have been using the Modern Analog for quite some time because of its classic look. I never liked the digital watch faces much despite the fact that most of them display much more handy data. Effectively, I am thinking of changing the watch face because I find myself checking my stats so often that it gets boring going through the menu when you can have the data constantly on the screen. Besides, now many of these first-and third-party watch faces support the always-on-display with the option to switch it at night time to save battery life. With the always-on-display turned on the battery needs recharging in 2.5 days.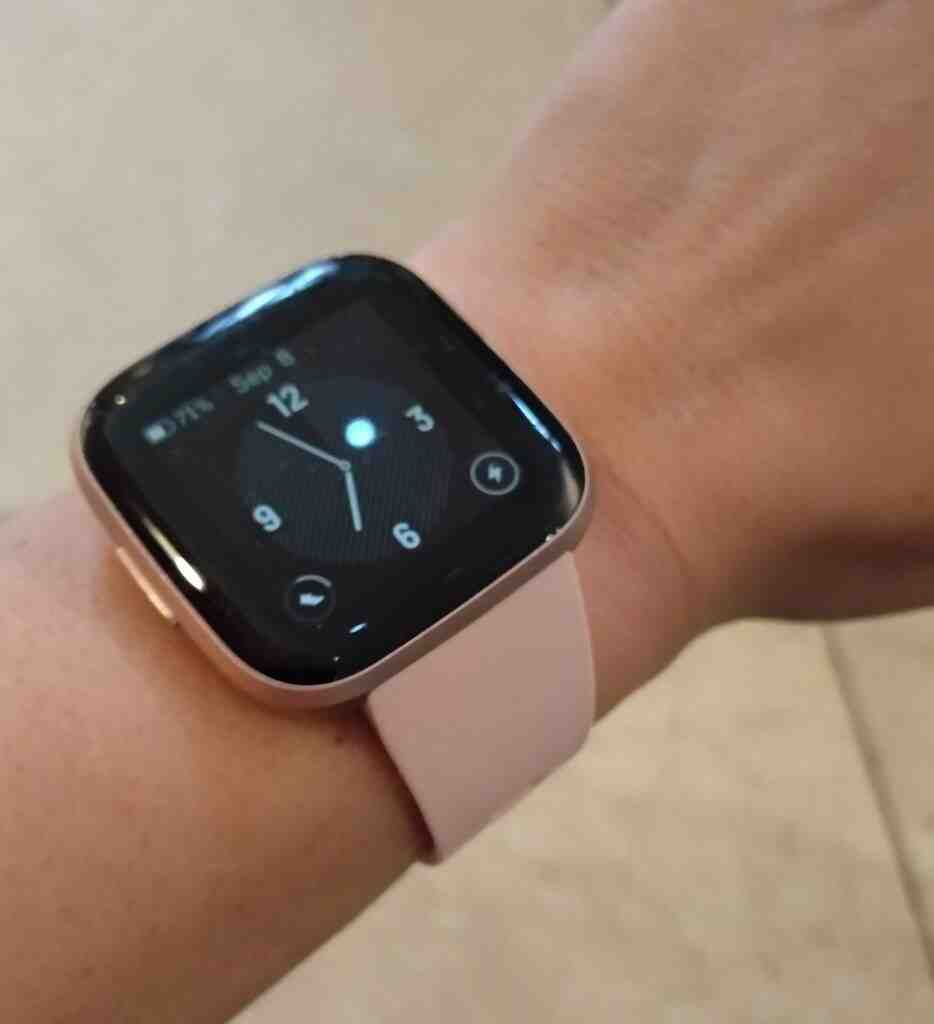 Versa 2 also comes with a number of accessories you can buy. I have the Petal Classic band with the Copper Rose Aluminium case. I find this combination very suitable whatever the color of my clothes and occasion. I have received this as a present. At first, it felt a bit strange wearing a colorful watch after being used with a silver band for decades but now I cannot be happier with the choice. Nevertheless, if you're in doubt don't worry cause the bands start from 30 Euro and you can buy one for every occasion: Sport & Classic, Horween Leather, Woven, or Kim Shui Collection.
Fitness and Health Tracking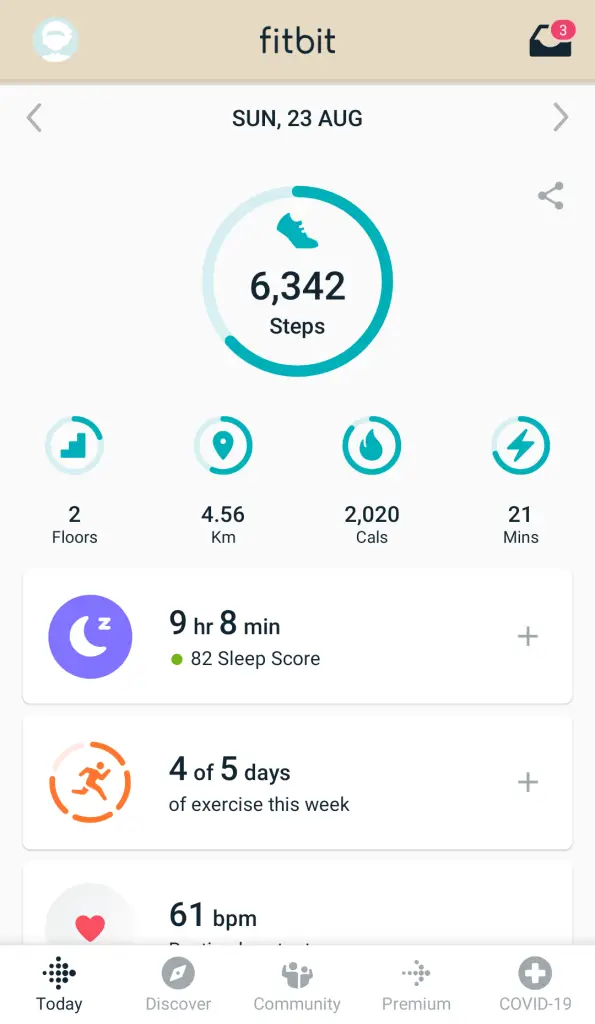 Versa 2 is a great fitness and health tracker with very accurate results especially health related data. However, it's a pity that it lacks a built-in GPS. This is a big omission makes it calculating distance metrics difficult and tracking the route while running and swimming is not very accurate. Additionally, to track your run you would need to take the phone which defies a little bit the purpose of the smartwatch.
A new useful feature in the Versa 2 is setting a goal before starting an exercise and this is compatible with 15 workout modes that include running and yoga.
You can also allow Versa 2 track non-goal based exercise including running, biking, swimming, treadmill, and much more including a generic workout.
Heart Rate Monitoring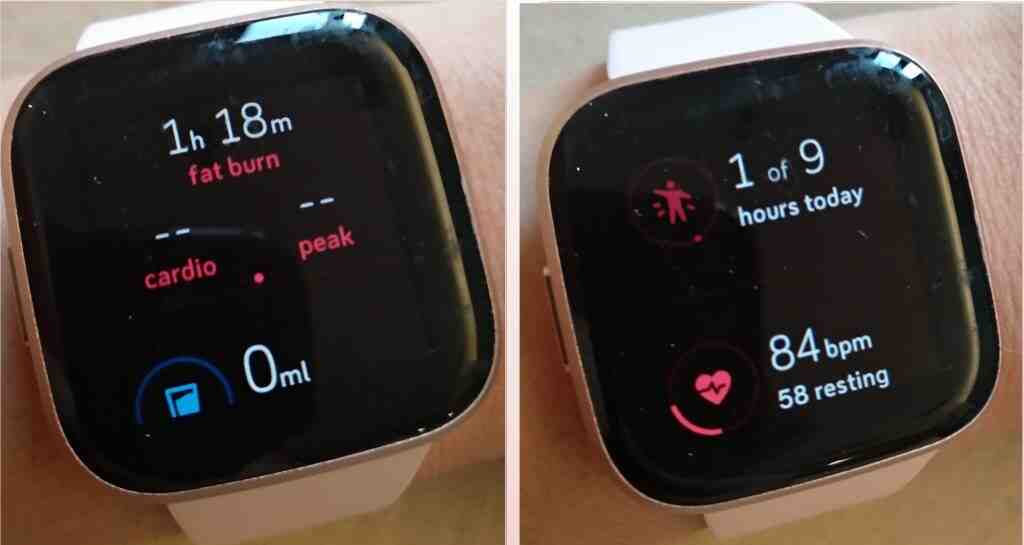 Unexpectedly, I found the heart rate monitoring an addicting tool. From the Fitbit app you can optionally set the heart rate levels for Fat Burn and Cardio depending on your fitness level.
Amazingly, comparing the heart rate data of the watch is very close to results using a chest strap which should be the most accurate. This means that the optical heart rate sensors of Fitbit are becoming very good competing with the most advanced running watches.
Disappointingly, the heart rate is not monitored during a swim. In all other exercises, I configured the screen so that it always show me the heart rate. However, after failing a couple of times then I found an answer to my same question saying that the heart rate monitor is disabled while swimming.
Cardio Fitness Level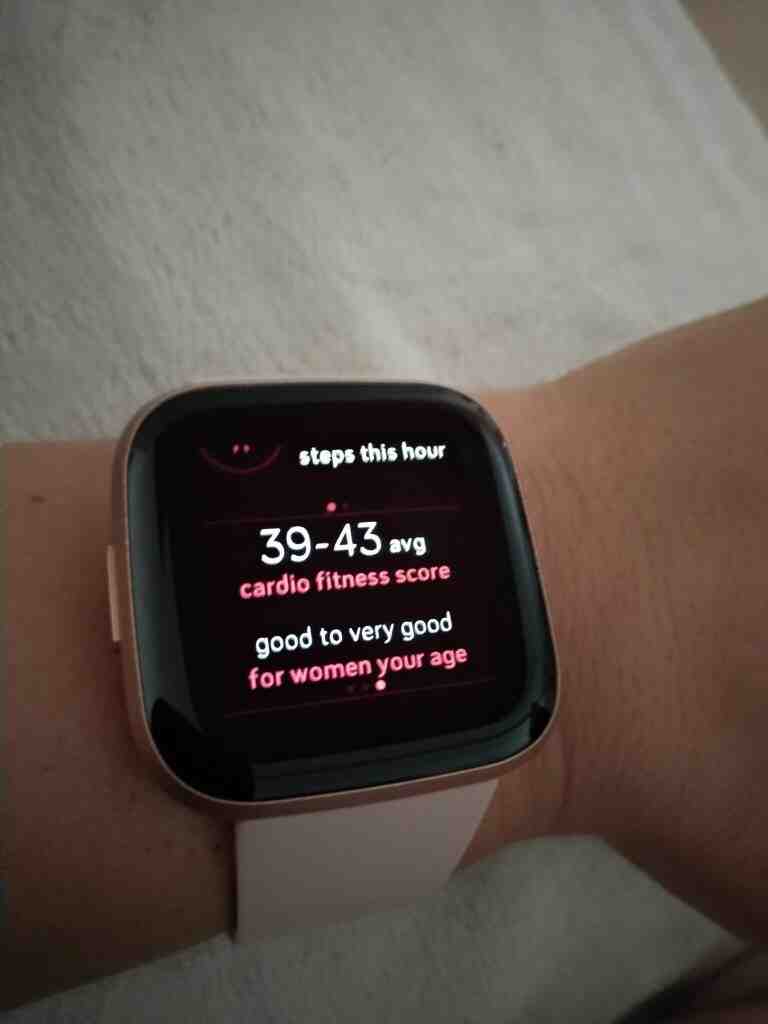 As a matter of fact, the Cardio Fitness Level is nothing different than VO2 max or maximal oxygen consumption. It does in fact reflect cardiorespiratory fitness and endurance capacity in exercise performance. It is also widely used for cardiovascular disease risk assessment as it is believed that this value is related to life expectancy.
Sleep Score
The Sleep Score is a feature that is not offered on every Fitbit. Versa 2 comes with this feature giving you many insights into your sleep habits also collecting more data through the heart rate monitor and the pulse oximeter sensors. The actual score is calculated on the:
TIME ASLEEP (On target, -)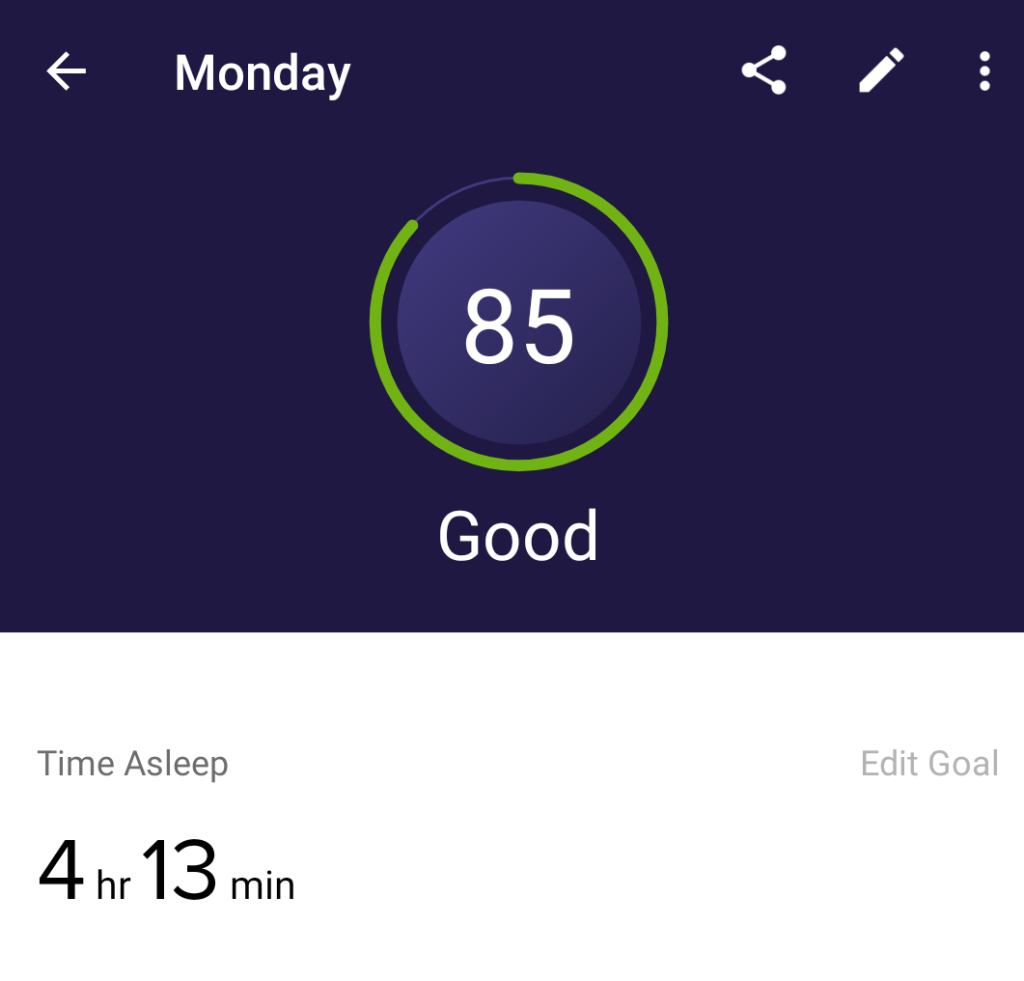 SLEEP STAGES (Light, Deep, REM)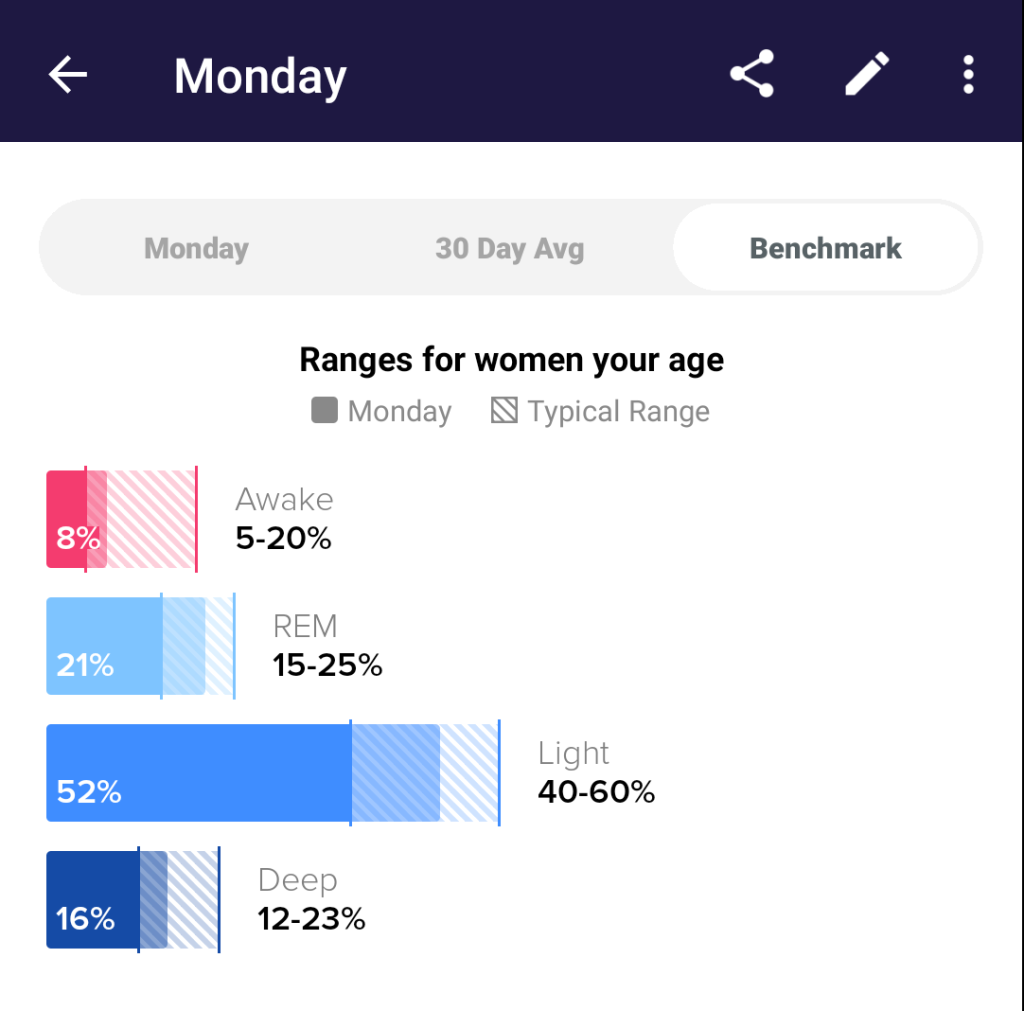 ESTIMATED OXYGEN VARIATION (Low, High)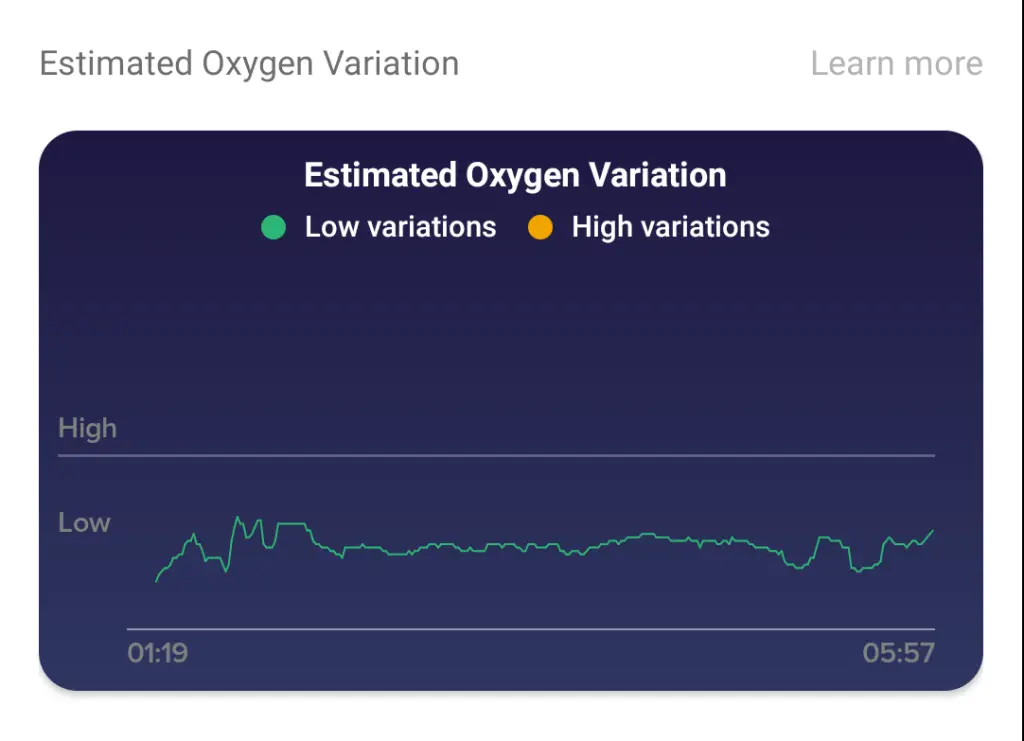 Finally, in February 2020, Fitbit announced that it was going to turn on the Sp02 sensor. This would estimate the variability in the blood oxygen saturation level while you're sleeping. Additionally, there is more information such as Sleeping heart rate and Restlessness if you have a premium membership.
Fitbit Versa 2 Review – Best Features
One of the features that changed my day is not having to carry my mobile phone around to check notifications. Luckily my phone is an Android and I can answer the notifications by hitting the voice reply button and just answer loud and clear to be captured by the voice recognition and then hit a send button.
Furthermore, you can also answer a phone call but this time the built-in microphone used to reply to messages won't work. You need to have a Bluetooth headset with a microphone in order to answer a call. However, if you're in a meeting you can also stop the call immediately from the watch.
Another key point is by the Sleep Mode feature that will silence notifications as soon as the night time hits. Of course, this can also be configured from the Fitbit app. Unquestionably, this is an essential frill that makes "cohabitation" with the smartwatch plain sailing. To rephrase it, if this feature was missing I would certainly throw the watch into my old gadgets drawer!
When I was configuring by watch for the first time I was very anxious to go and download more applications beyond the default ones that come with it. However, there was little choice especially without paying a subscription for Apps such as Strava or Deezer. Moreover, the Spotify app lets you control the music on your phone but not downloading an offline playlist to listen without having to carry with you the mobile phone. However, Versa 2 has around 2.5GB of free storage available to download music from local files or through Pandora or Deezer.